INDUSTRIAL SAWMILL WM4000
Heavy-duty sawmill with the latest technology
Low operating costs and higher productivity with more log yield creates a formula for your success.
DESCRIPTION
The WM4000 is the 'next generation' in thin-kerf sawmilling. The WM4000 combines the profitability enhancements of thin-kerf blades with productivity advances in automated sawing technology to create an ideal solution for any sawmill.
Only one operator is needed to manage log handling, sawing, and timber removal for further processing making the WM4000 a highly profitable machine. The WM4000 adapts easily for whatever cutting requirements are needed and delivers higher log yield at lower investment and operating cost than alternatives, increasing profitability and ability to produce diverse products quickly.
The WM4000 can be used as a standalone sawmill to process all required materials, or as an addition to an existing sawmill to process irregular logs or to produce custom orders that existing equipment is not suited for.
The advanced PLC setworks are displayed on a 19 cm touch-screen monitor which presents board and cant sizes along with current head height, feed position, and blade power. The setworks feature new ways of increasing productivity and reducing steps required in the sawing process, including remembering the start and stop locations of the log to reduce unneeded head movement. A built-in powered board conveyor automatically turns itself off after moving a board or cant from the sawmill.
The log bed is heavily constructed – reinforced with 50% more steel than the WM3500. Servo motors ensure faster and accurate head positioning, resulting in more timber cut in each shift. Powerful hydraulic log handling enable easy manipulation of large logs and several options are available to meet your requirements.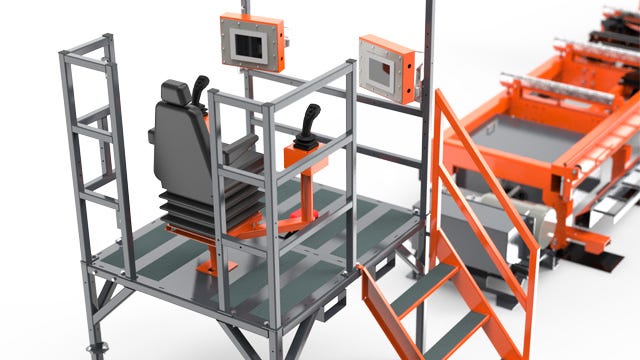 Operator Station
Standard raised platform gives operator clear view of work. Optional enclosure.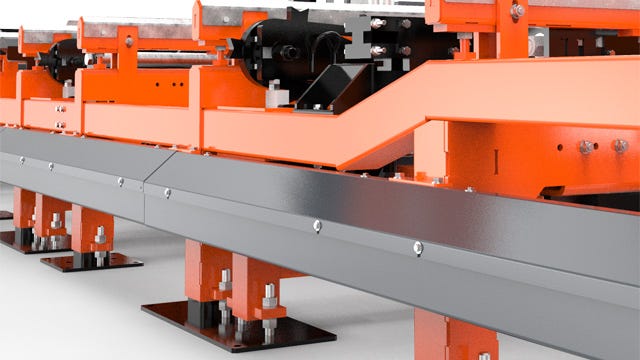 Heavy Duty Bed
50% more steel than the WM3500 bed.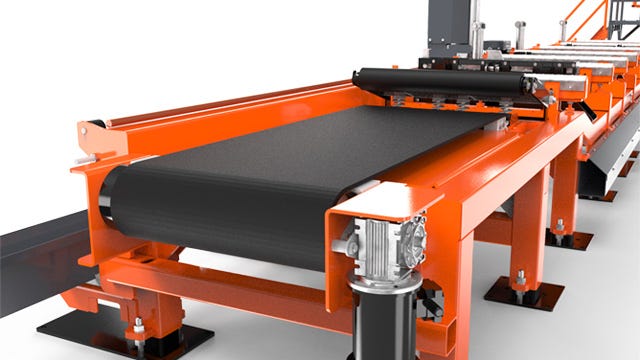 Board Removal Conveyor
Automatically activates when board is being removed.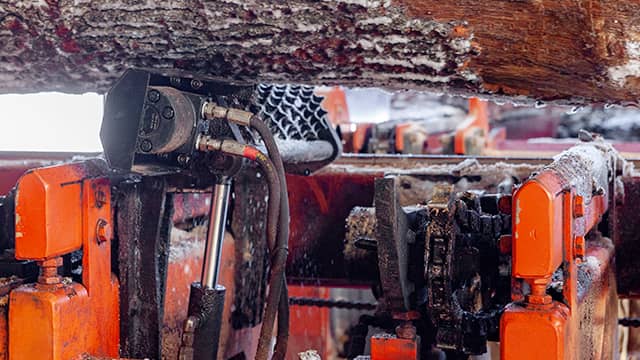 Power Roller
Easily enables you to position the log on the bedrails, and can also assist in removing sawn cants.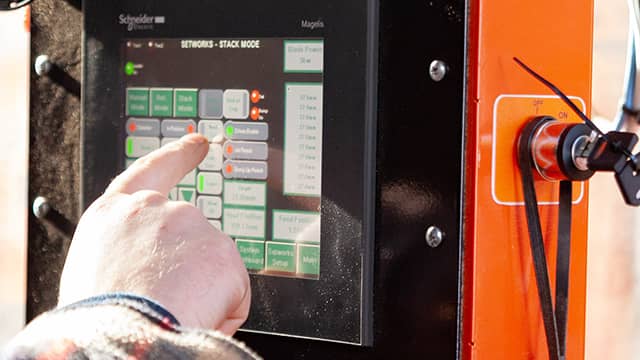 Advanced Touch Screen Setworks
Wood-Mizer's most efficient and powerful industrial PLC setworks system.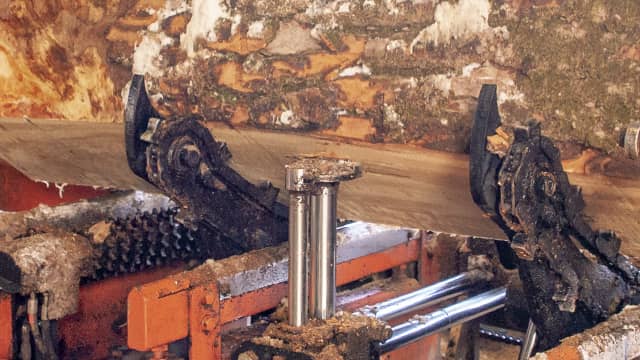 Two Bi-directional Chain Turners
Quickly turn and position the log with these heavy-duty turners.
POWER

Power

22 kW Electric

CUTTING CAPACITY

Max. Log Diameter

100 cm

Max. Log Length

6.5 m




6.17 m (with Board Removal)

Max. Width of Cut

86 cm

Max. Cant Width

78,5 cm

Max. Depth of Cut

33 cm

Max. Clamp Width

66 cm

Min. Clamp Width

5 cm

HEAD FEATURES AND OPTIONS

Setworks

Touch Screen Setworks

Head Up/Down

Electric

Head Forward/Reverse

Electric

Blade Guide Arm

Electric

Blade Lubrication

Automatic

Blade Tension System

Pneumatic

Debarker

Optional

Additional Options

Laser Sight




Roller, Double Block Blade Guide




Pantograph




Board Return Arms

Sawdust Collection Port Diameter

150 mm

BLADE

Length

4980 mm

Width

38 mm

BLADE WHEELS

Diameter

635 mm

Type

Belted

Blade Wheel Material

Cast Steel

BED FEATURES AND OPTIONS

Bed Construction

Monorail

Angled Bed Rails

N/A

Bed Extensions

N/A

Trailer Package

N/A

Bed Features

Operator Station




Heavy-Duty Bed With Short Conveyor

LOG HANDLING

Manual

N/A

STANDARD Hydraulic

N/A

SUPER Hydraulic

Log Leveling Roller




3 Double Vertical Supports




2 Chain Turners




Central Clamp




2 Hold-down Clamps




Power Roller




Hydraulic Pump 7.5 kW

SAWMILL FEATURES AND OPTIONS

Frame Construction

Cantilever

Power Requirements

3 Phases, 400 V, 50 Hz

Shop Air Supply

110 PSI

Standards

CE

Options

Incline Conveyor




Transfer Deck




Log Deck 3.6 m




Log Deck 6 m




Air-Conditioned Operator Cab