4-Sided Moulder and Planer
High Production Four-sided Moulder and Planer for full flexibility to produce finished timber.
DESCRIPTION
The MP360 four-sided planer / moulder is a high-production, large capacity machine engineered for professional workshops. With a larger capacity and higher hourly production levels than the popular Wood-Mizer MP260 planer / moulder, the MP360 planes and moulds boards on all four sides in a single pass into a variety of professionally finished products.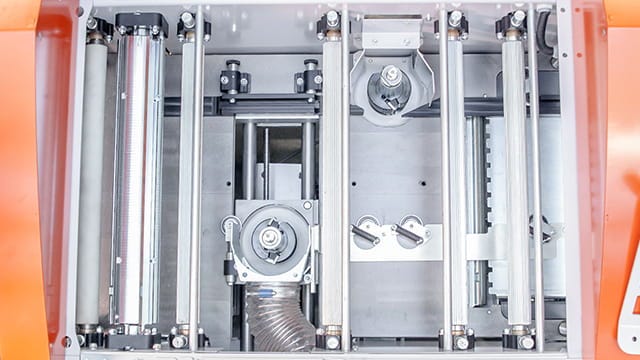 Five Feed Rollers
Four steel and one polyurethane power roller steadily move the board through the machine.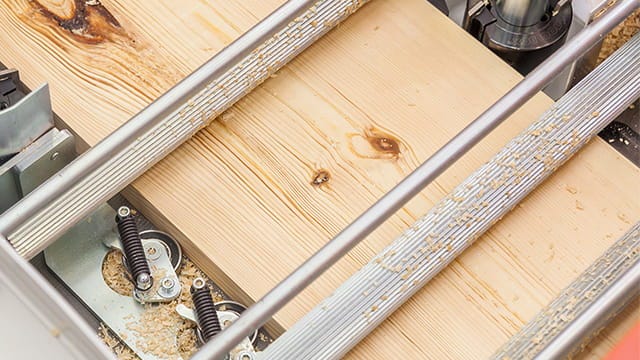 4 Cutting Heads
Four cutting heads plane & mould boards on all 4 sides in a sin-gle pass into a variety of finished products.
4-SIDED MOULDING CAPACITY

Max. Width

360 mm

Max. Height

10 – 160 mm

2-SIDED MOULDING CAPACITY

Max. Width

410 mm

Max. Height

10 – 230 mm

1-SIDED MOULDING OR THICKNESSING CAPACITY

Max. Width

510 mm

Max. Height

230 mm

FEATURES & OPTIONS

Number of Horizontal Cutters

2

Number of Spindles

3

Number of Sawdust Extraction Ports

4

Viewing Window

Yes

Options

Support Rollers




Infeed Table – 2 m




Board Fence Extensions

UPPER HORIZONTAL CUTTER

Diameter

88 mm

Width

510 mm

Power

5,5 kW (7,5 HP)

Rotation Speed

6000 RPM / 50 Hz

Max. Cutting Depth

8 mm

Max. Profile Depth

20 mm

LOWER HORIZONTAL CUTTER

Diameter

72 mm

Width

410 mm

Power

4 kW (5,5 HP)

Rotation Speed

6000 RPM / 50 Hz

Max. Cutting Depth

8 mm

Max. Profile Depth

10 mm (15 mm)

VERTICAL CUTTERS

Spindle Diameter

30 mm

Max. Cutter Height

160 mm

Max. Diameter

140 mm

Power

3 kW (4 HP)

Rotation Speed

6000 RPM / 50Hz

Max. Cutting Depth

30 mm

STANDARD VERTICAL CUTTERS INCLUDED

Type

TB90

Diameter

90 mm

Height

40 mm

Knife Type

HSS

Knife Width

50 mm

POWER FEED

Feed Motor

0.75 kW (1 HP)

Feed Speed

3 – 15 m/min / 50Hz

Feed Rollers

4 Steel + 1 Polyurethane Rollers




5 Polyurethane Rollers (Optional)

DIMENSIONS & WEIGHT

Length

2,970 mm (9'9″)

Width

1125 mm

Height

1430 mm

Weight

675 kg

Shipment Weight

740kg

MACHINE STANDARDS & REQUIREMENTS

Total Power

16.25 kW (22 HP)

Electrical Requirements

3-phase, 400 V, 20-32 A




3-phase, 230 V, 32-50 A

Sawdust Collection Port Diameter

3 x 100 mm + 1 x 125 mm

Safety Standards

CE