Extra-Wide Twin Rail Sawmill
The LX250 sawmill is designed to saw massive and wide logs up to 140 cm in diameter, with high cutting precision and great ease of operation.
DESCRIPTION
The LX250 Extra-Wide Twin Rail Sawmill expands the Wood-Mizer family of LX sawmills and answers the wider sawing demand of sawyers and carpenters. Thanks to its wide head it can saw logs up to 140 cm in diameter (138 cm throat width).
Its rigid LX frame makes a stable structure which holds the control panel, engine, and the sawmill head. As with all LX machines, the LX250 head is mounted on xFRAME mast, which moves smoothly along TWIN RAIL bed powered by two powerful electric feed motors (0,75 KW each). The head features a smooth up/down movement by using 2 chains moving along the masts.
The modular bed consists of 3 sections (1,85 m each) offering the total length of 5,55 m with the possibility of further extension for sawing longer logs. Logs are tightly secured on the bed with 3 side supports, 2 manual clamps and a few raised cross bed sections allowing for easy log loading by a forklift.
For the ease of operation and increased production capabilities, all controls of the sawmill are fitted into operator panel with SW10 Setworks installed in it. From this unit the operator can control the up/down movement of the head and the forward/reverse movement with a variable speed feed system. In front of the operator, on the electric box, there's also an ammeter showing the current load of the main motor, which is helpful while cutting large diameter logs. With this feature, the operator can adjust the sawing speed and control the blade wear and quality of produced lumber.
Cutting large logs requires longer blades, that's why the LX250's head is compatible with 547 cm long and 32-35 mm wide sawmill blades. The LX250 sawmill includes an electric blade guide arm and a hydraulic blade tensioning system for better sawing performance.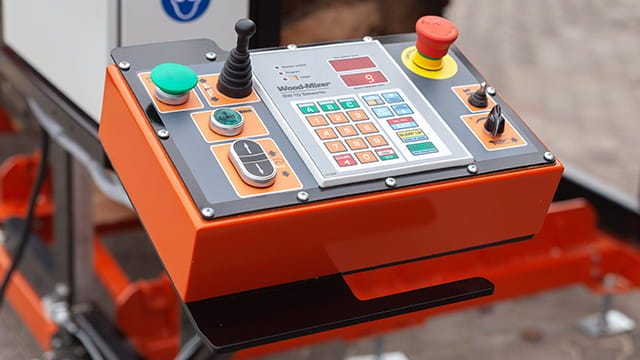 Redesigned Control Panel with Standard SW10 Setworks
Control power feed, head up/down and blade guide arm all in one place with safety features.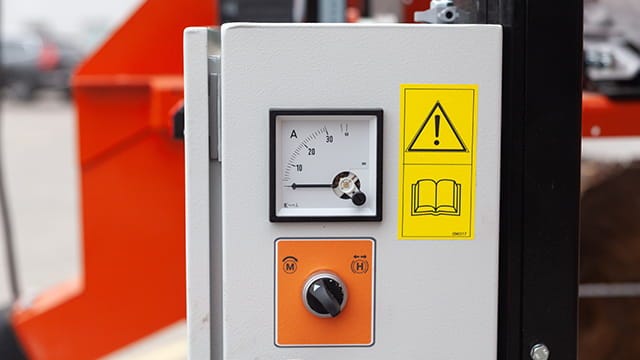 Ammeter
Allows the operator better control of the sawing process. Displays the current load of the main motor in order for the operator to adjust cutting speed for better sawing performance and reduced blade wear.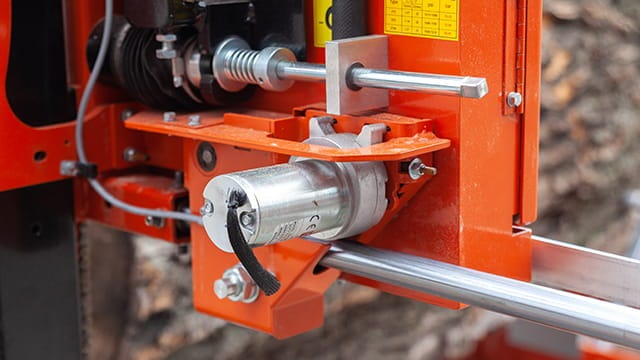 Electric Blade Guide Arm
Makes the operator's work more convenient and increases precision of cutting by preventing vibrations of the blade while sawing.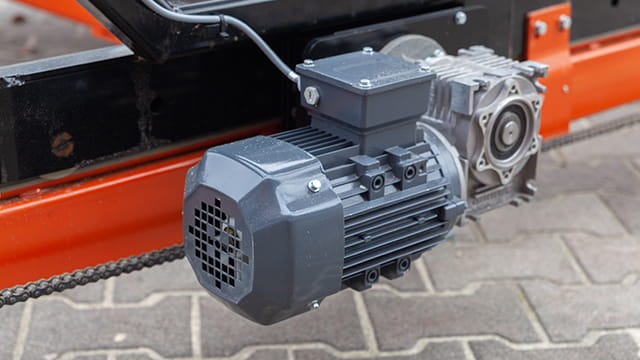 Symmetrical Power Feed
Two electric motors (0,75 kW) on each side provide stable and smooth movement of the mast along the bed.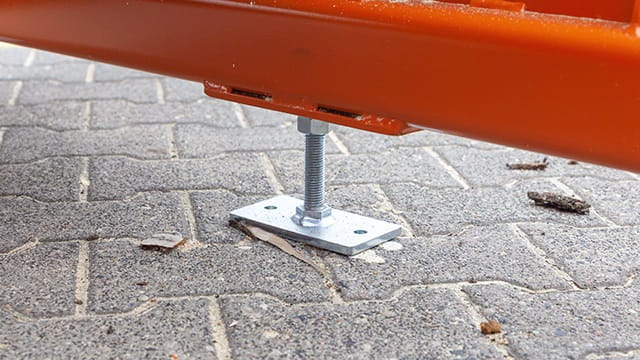 Many Adjustable Legs
More adjustable legs allow more accurate levelling of the bed for logs as heavy as 4 tons.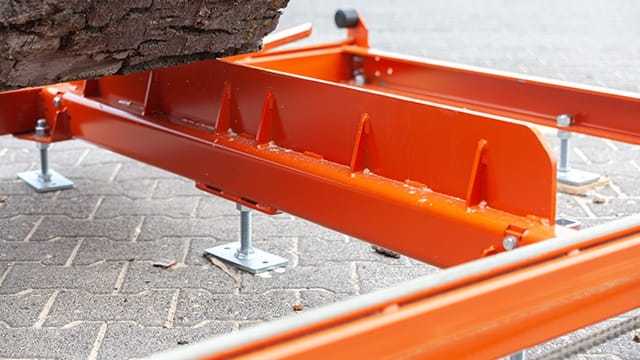 Reinforced and Raised Bed Sections
For easy loading of heavy logs with a forklift or tractor. No need to drop or roll logs onto the saw bed.
POWER

Power

11 kW (E15) Electric




15 kW (E20) Electric




18.5 kW Electric

CUTTING CAPACITY

Max. Log Diameter

140 cm

Max. Log Length

4 m (3 segments 1.85 m each)

Max. Width of Cut

138 cm

Max. Cant Width

125 cm

Max. Depth of Cut

27 cm

HEAD FEATURES AND OPTIONS

Setworks

SW10

Head Up/Down

Electric (Chain)

Head Forward/Reverse

Electric (2 x 0.75 kW)

Blade Guide Arm

Electric

Blade Lubrication

Electro Valve

Blade Tension System

Hydraulic Tensioning Handle with Gauge

Debarker

N/A

Sawdust Collection Port Diameter

150 mm

BLADE

Length

5460 mm

Width

32 mm




35 mm

BLADE WHEELS

Diameter

473 mm

Type

Belted

Blade Wheel Material

Cast Iron

BED FEATURES AND OPTIONS

Bed Construction

Twin Rail

LOG HANDLING

Manual

3 Side Supports




2 Manual Log Clamps




Log wedge

SAWMILL FEATURES AND OPTIONS

Frame Construction

xFRAME

Standards

CE