Economic sawmill for heavy usage
The LX100 Twin Rail Sawmill is built for heavy and continuous sawmilling use.
DESCRIPTION
With features designed to increase durability and efficiency, the LX100 is intended to meet and exceed customer requirements in demanding sawmilling environments.
The rigid xFRAME holds the control panel, the motor, and the sawmill head. Thick steel is used throughout the bed and the sawmill feet are bolted directly to the bed rails, reducing stress on the frame. Loading logs with a forklift is made easier with raised bed rails, reducing impacts from dropping or rolling the logs onto the sawmill.
At home sawing tropical hardwoods and other hard-to-cut and heavy timbers, the LX100 is designed to last longer than the competition, while remaining affordable.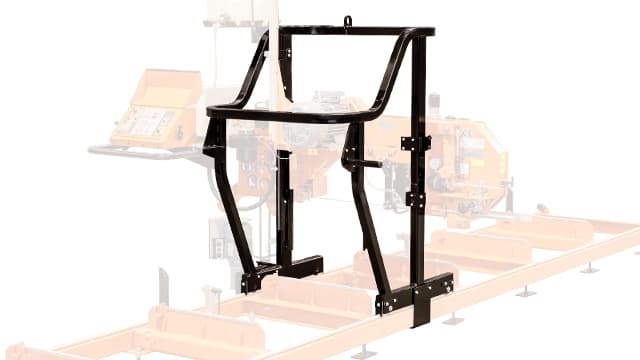 xFRAME Sawhead
The rigid, solid frame holds the control panel, the motor, and the sawmill head.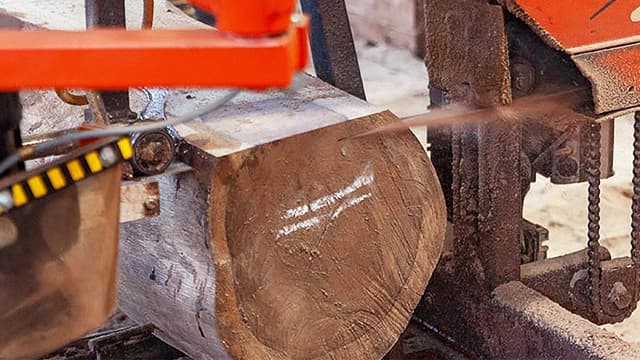 Thin-Kerf Wood-Mizer Blades
Cut hardwoods and softwoods with Wood-Mizer's wide range of blades.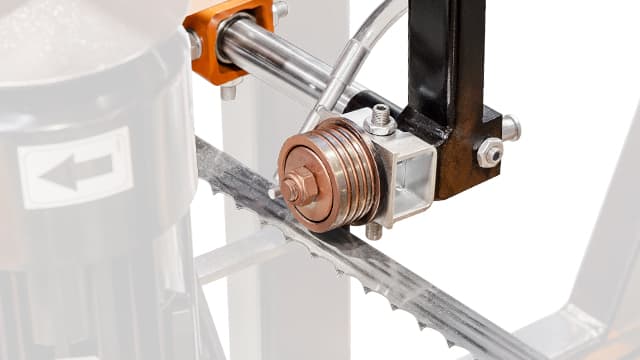 High Quality Blade Rollers
Fully adjustable and high quality guides manufactured by Wood-Mizer specifically for our sawmills.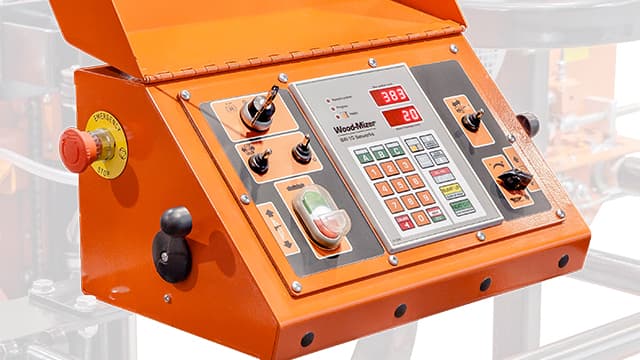 Operator Control Panel
The sawmill controls are centrally located on the Operator Control Panel.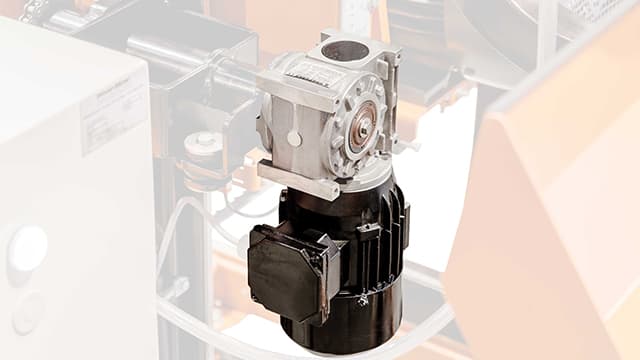 Electric Up/Down
Standard electrical up/down increases operator productivity.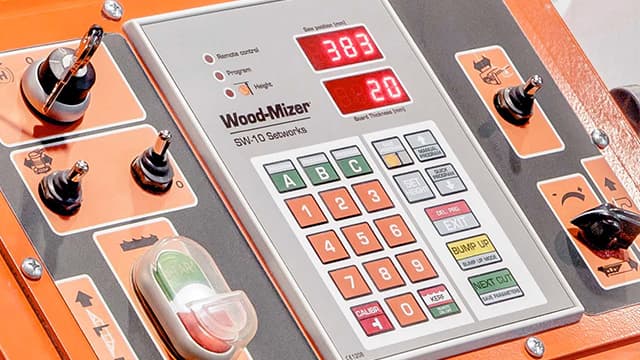 Optional Setworks
Just set a board size and with one button, the sawmill repositions automatically for each cut.
Clamp and Side Supports
The clamp is always held up out of the dirt, out of the way when not being used. The side supports on the LX100 are simple and stronger than ever.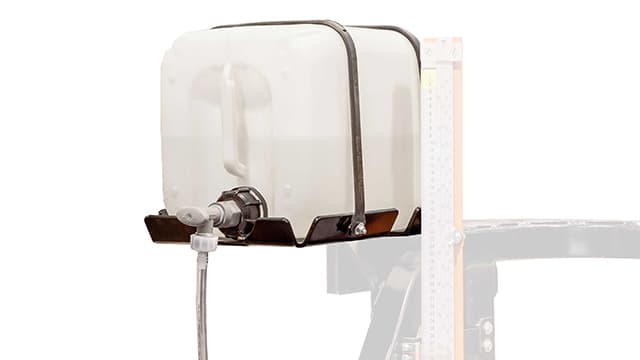 Automatic Blade Lubrication
Activates when the blade is engaged, and turns off when the blades stops.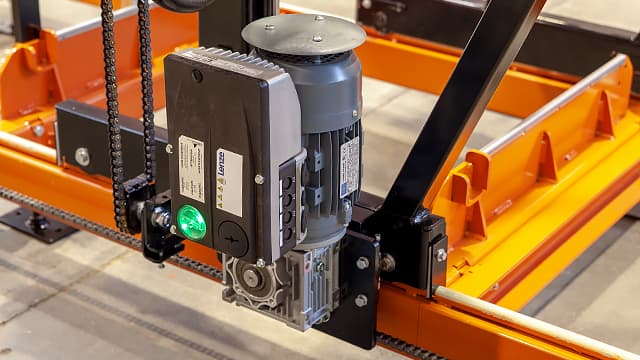 Optional Power Feed
The optional power feed system is driven on a heavy-duty chain, faster and more durable than other methods.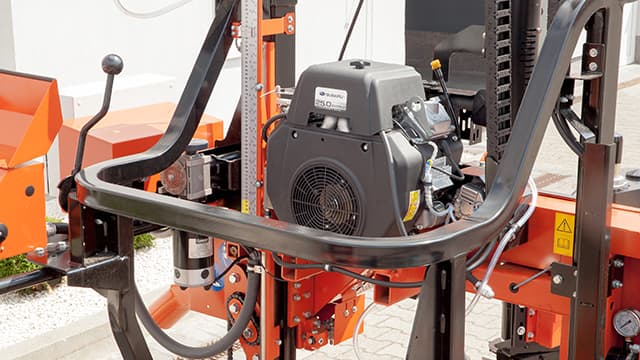 Optional Petrol Engines
For dependable power away independent of electrical availability.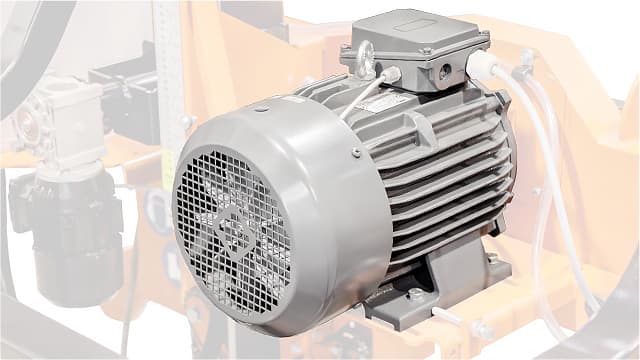 Electric Motor
Electric motors available in various options.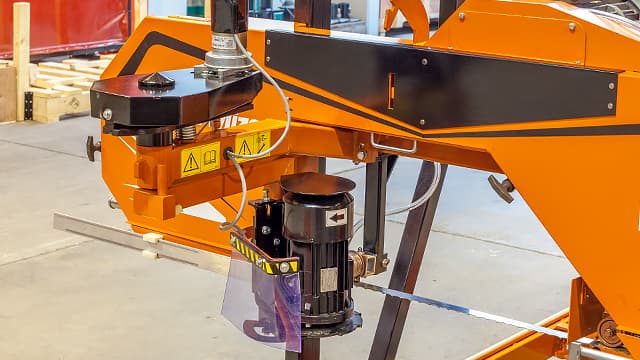 Optional Debarker
With the optional debarker to remove dirt and bark from the blade path, your blade sharp life is lengthened.
POWER

Power

7.5 kW Electric




11 kW (E15) Electric




19 HP Petrol




25 HP Petrol

CUTTING CAPACITY

Max. Log Diameter

70 cm


Max. Log Length

5.4 m (2 segments 2.75 m each)




5.58 m (3 segments 1.85 m each)




8.10 m (3 segments 2.75 m each)

Max. Width of Cut

64 cm

Max. Cant Width



58 cm

Max. Depth of Cut




27 cm

HEAD FEATURES AND OPTIONS

Setworks

SW10 (for AC models)

Head Up/Down

Electric (for AC models)

Head Forward/Reverse




Electric




Manual Push




Blade Guide Arm




Electric




Blade Lubrication




Electro Valve




Blade Tension System




Screw with Gauge




Debarker




Optional




Additional Options




N/A




Sawdust Collection Port Diameter




101.6 mm (4")




BLADE

Length

4010 mm

Width

32 mm




35 mm

BLADE WHEELS

Diameter

483 mm

Type

Belted

Blade Wheel Material

Cast Iron

BED FEATURES AND OPTIONS

Bed Construction

Twin Rail

Angled Bed Rails

N/A

Bed Extensions




Additional Bed Sections: 1.85 m or 2.75 m




Trailer Package




N/A




LOG HANDLING

Manual

3 Side Supports




2 Manual Log Clamps




Log wedge

STANDARD Hydraulic




N/A




SUPER Hydraulic




N/A




SAWMILL FEATURES AND OPTIONS

Frame Construction

xFRAME

Standards




CE

Options




Cant Hook