High performance, professional sawmilling solution
Designed to meet and exceed the demands of the modern high production sawmilling enterprise
DESCRIPTION
The LT70 Sawmill Series is designed to meet the demands of the modern high production sawmilling enterprise, while incorporating thin-kerf blade technology to increase profits.
The LT70 comes standard with belted blade wheels for running 32-38 mm blades. Optional you can order wider crowned cast iron wheels to run 50 mm blades. The larger blade wheels and 50 mm blades can be ordered only for the STANDARD head width.
Log handling with the LT70 can be configured for the exact needs of your business – Manual, Hydraulic, or Super Hydraulic log handling configurations are available to match productivity and budget requirements. With the powerful Accuset or PLC computer Setworks, the operator can focus on high quality production and keep the blade in the log more of the time.
The high performance LubeMizer blade lubrication system keeps the blade clean and enhances sawing performance. Wood-Mizer's wide range of affordable blades are designed for all cutting requirements, and deliver maximum log yield and minimal waste of valuable timber.
Popular Options
Full mobility for your sawmill can be achieved with the addition of a trailer package. The optional Debarker prolongs blade life by clearing away dirt and rocks from the bark. Various electric and diesel engine options are available.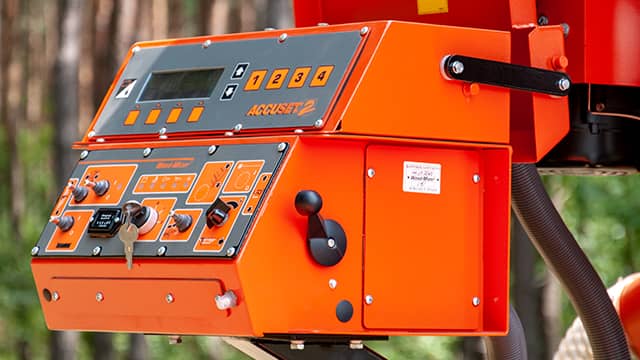 Electronic Setworks
Increases productivity using easy-to-use Setworks to precisely position the head for the next cut. Various Setworks options available.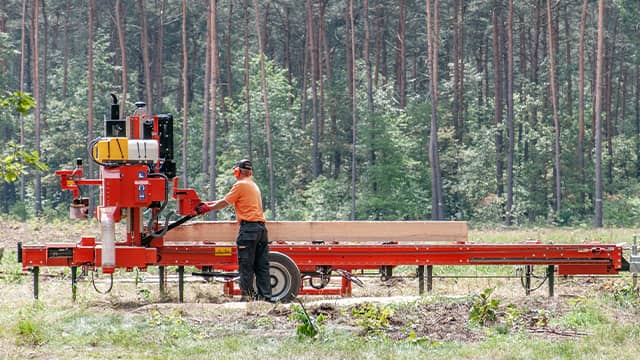 Three Bed Lengths to Choose From
Depending on your needs, select a Short (S), Medium (M), or Long (L) Bed Sawmill.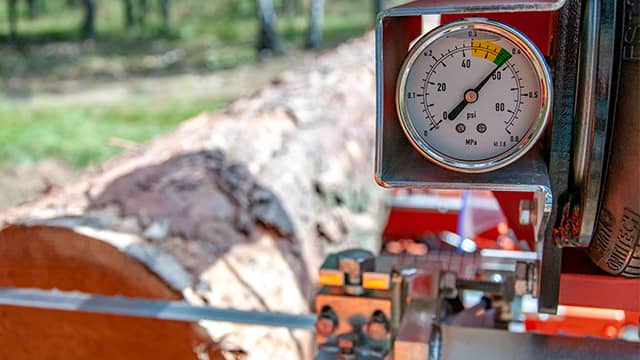 Blade Tension System
Airbag blade tension system ensures tension consistency.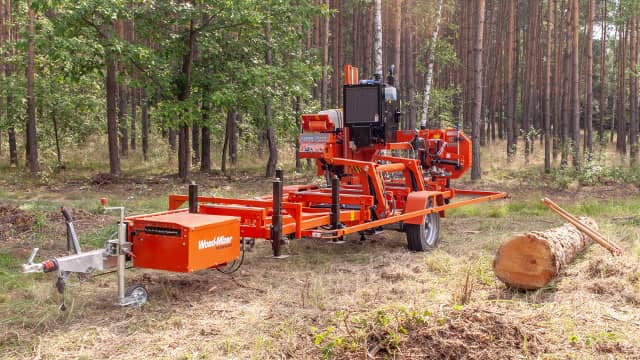 Mobile Trailer Options
Fully-compliant for trailer specifications. Includes adjustable outrigger supports for stability on any terrain.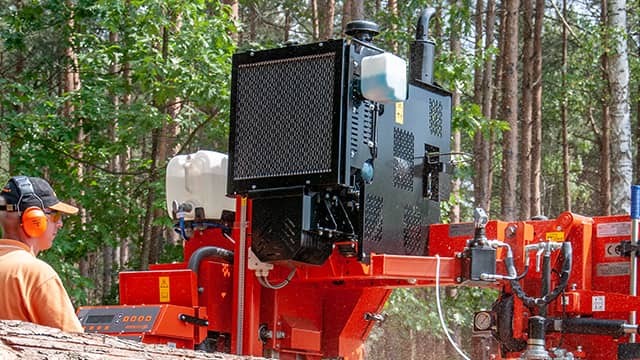 Petrol and Diesel Engine Options
Choose petrol or diesel if access to electricity is an issue.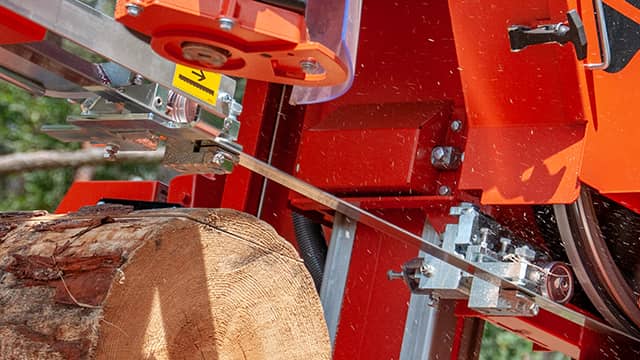 Roller / double block blade guides
Accurate sawing with maximum blade stability.
POWER

Power

15 kW (E20) Electric




18.5 kW Electric

CUTTING CAPACITY

Max. Log Diameter

95 – 105 cm

Max. Log Length

4.8 m (S Bed)




6.1 m (M Bed)




8.4 m (L Bed)

Max. Width of Cut

73 – 86 cm

Max. Cant Width

64 – 78 cm

Max. Depth of Cut

39 cm

HEAD FEATURES AND OPTIONS

Setworks

SW10 (for AC models)




SW PLC1 (for AC models)




SW PLC2 (for AC models)

Head Up/Down

Electric

Head Forward/Reverse

Electric

Blade Guide Arm

Electric

Blade Lubrication

LubeMizer

Blade Tension System

Hydraulic with Airbag

Debarker

Optional

Additional Options

Laser Sight




Remote Operation Station (Cable Cat Track or Curtain)




Board Removal System




Roller, Double Block Blade Guide

Sawdust Collection Port Diameter

150 mm

BLADE

Length

4670 – 5000 mm

Width

38 – 50 mm

BLADE WHEELS

Diameter

600 mm

Type

Belted




Non belted

Blade Wheel Material

Cast Iron




Crowned Cast Iron

BED FEATURES AND OPTIONS

Bed Construction

Monorail

Angled Bed Rails

Optional

Bed Extensions

Bed Extension: 0.5 m

Trailer Package

N/A

LOG HANDLING

Manual

Side Support




Clamp




Toeboards




Winch Log Turner




Log Loader (Manual Pump)

STANDARD Hydraulic

3 Side Supports




Central Clamp on Two Rods




Hold-down Clamps




Log Turner




Log Leveling Rollers




Log Loader

SUPER Hydraulic

2 Vertical Side Support




Central Clamp on Two Rods




Chain Turner




Log Leveling Roller




Power Roller with Two Cylinders




Hold-Down Clamps




Log Loader

SAWMILL FEATURES AND OPTIONS

Frame Construction

Cantilever

Standards

CE

Options

Log Deck




Incline Conveyor




Roller Table




Transfer Deck




Absorption Roller